ALBUMS

The Art of Space
Eighteen selections of Mark's unique blend of contemporary classical and futuristic electronic music are smoothly structured into a sixty-minute suite, while five evocative space poems—created by accomplished poets, recited by professional actors, and underscored by Mark—chronicle the thoughts and emotions of a lone space traveler spinning deeper and deeper into the cosmos.
Produced and recorded by Mark Mercury, THE ART OF SPACE features works by poets John Fairfax, Brian Patten, John Cotton, and Rosser Reeves; readings by actors Richard Gould and Charmaine Blakely Budaska; and cover art by visual artist Reggie Hendrix. Read a review here.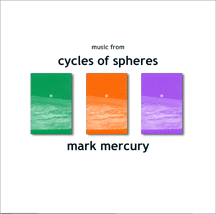 Music from Cycles of Spheres
"Cycles of Spheres: Mapping the Planets in Silk and Sound" is a national touring exhibition featuring the silk batiks of artist Mary Edna Fraser accompanied by the music of Mark Mercury. The elements of the musical suites on this CD are drawn from planetarium soundtracks and feature Mercury's blend of contemporary classical and futuristic electronic music.
In the exhibition, large-scale silk batiks of planets and galaxies float as sculpture. As if frozen in time, each silk tableau provides a visual window to an individual planet's identity and personality. Space music enhances the exhibit by evoking the majesty of our nine planetary worlds and the universe beyond. Read a review here.